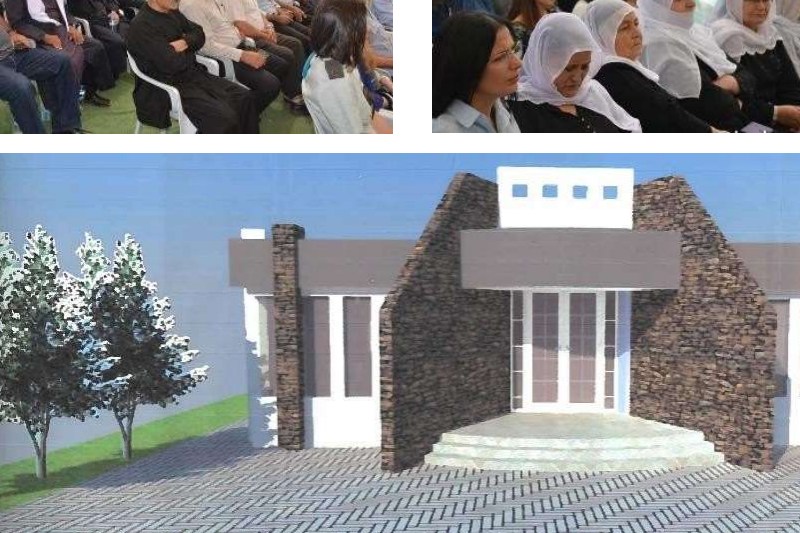 Approximately 200,000 Israeli Druze citizens currently live in Israel. They are full citizens and serve
in all branches of the Israel Defense Forces and hold government positions as well. They are not
Muslim, Christian, or Jewish. The Druze religion began about 10 centuries ago in the Middle East.
They are reluctant to talk about their religious beliefs, but we know they look to Jethro – the father
in law of Moses – for inspiration.
The Druze Village of Beit Jann is perched on one of the highest mountains in the Galilee – at the
point where Lebanon, Israel, and Syria meet – and looks down at the Golan Heights plateau and
the border between Israel and Syria. Beit Jann has a population of 12,000. At the entrance to
the village, adjacent to the military cemetery, a monument inscribed with 68 names of their fallen
heroes stands proudly flanked by large Israel flags.
In early 2019, the Village of Beit Jann received a small piece of land from the government and a
modest seed grant to begin the project of constructing a memorial community center. The
architectural plans are complete, permits issued, and construction has already begun.
The Beit Jann Memorial Community Center will include a main memorial hall inscribed with the
names and displaying photos of the fallen Druze IDF heroes, a conference hall, along with the
interior furnishings and systems. The outdoor space surrounding the center consists of a
beautiful square and garden for outdoor community gatherings.
The Midwest Region of FIDF has committed to raising the $1,200,000 needed for this project.
The community will use this memorial center – located between two schools – to educate young
people on their duty and opportunities serving in the IDF. It will be used by bereaved families
for counseling, special community events, and cultural and educational activities and gatherings.
The Community Center will also serve three smaller Druze villages in the area and will
memorialize the 40 fallen heroes of the IDF from those villages.
The Druze are overwhelmed with gratitude knowing that people in the United States whom they
have never met are willing to recognize their sacrifices in defense of Israel.
A plaque will be placed designating the building as a gift to the Druze citizens of Israel from their
friends in the United States.
An additional plaque(s) will be placed in the building with the names of the donors appropriately
inscribed.
A special book with the names of all donors will be given to the Mayor of Beit Jann for placement
in the archives of the Village.
Donors will be invited and are encouraged to attend the inauguration ceremony for the
Memorial Community Center upon completion.